10 Fun facts about Al Capone
1.
Alphonse Gabriel "Al" Capone
had 8 siblings. Five of them were involved in criminal activities. The family lived at number 95 Navy Street in Brooklyn.
John "Papa Johnny" Torrio, também chamado de "The Fox" (nascido Giovanni Torrio)
He left school at 14 and, after working in a candy store and a bowling establishment, met the gangster Johnny Torrio, who would become

his mentor in crime

.
3.
Al Capone was part of the

"Gang of Five Points"

, criminal organization born in the late nineteenth century, mentioned in the movie "Gangs of New York" (2002).
4.
He had the nickname

"Scarface"

("Face scar"). He won the scars (and nickname) in a fight with Frank Gallucio, who attacked him after Capone insulted his sister. Al Capone apologized to Frank and years later hired him as a bodyguard.
5.
On December 30, 1918, Al Capone married

Mae Josephine Coughlin

. Mae belonged to a family of Irish middle class and only Capone married after the birth of the son of two,

Albert Francis "Sonny" Capone

, on December 4, 1918. Unlike his father, "Sonny" was never involved with the Mafia. He died on July 8, 2004.
Detroit police inspecting equipment found in a clandestine brewery during the Prohibition era
In 1921, he moved to the city of Chicago and, along with Johnny Torrio, built retail outlets illegal liquor in the

Prohibition

era (1920-1933). The "business" yielded 15 million dollars per year.
After settling his opponents in numerous gang wars,

Al Capone took over as leader

of Johnny Torrio's Chicago mob.
8.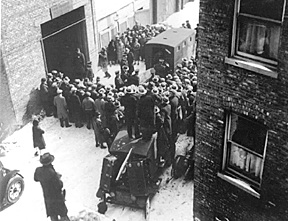 He has been involved in hundreds of brutal crimes. The most famous of these was the

"Massacre of St. Valentine's Day"

on February 14, 1929, in which seven men involved with the Mafia were brutally murdered.
9.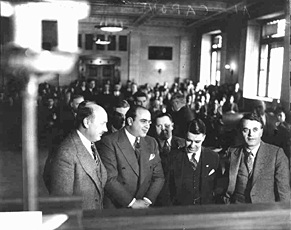 Capone was tried in a federal court in October, 17, 1931.
Al Capone escaped several times

to be sentenced for his crimes. He was arrested only in 1931, when the agent Eddie O'Hare found that the gangster not declared their taxes. For this crime, Al Capone was sentenced to 11 years in federal prison in Atlanta.
10.
Al Capone at Alcatraz Al Capone in 1931
In 1938, as in maximum security prison

Alcatraz

, he was found staring at the wall. Doctors diagnosed the criminal as having syphilis in advanced. In November 1939, he was released after doctors find that, due to his weakened mental state, he offered no danger to society. Al Capone moved to

Miami Beach, Florida

. Because of illness, lost much of motor coordination and started having trouble speaking. In recent years, Al Capone spent most of his day fishing, dressed in pajamas. Al Capone died in his sleep, on January 21, 1947, at age 48, after suffering a stroke. Icon of organized crime in the early twentieth century, Al Capone was buried in Mount Carmel Cemetery in Hillside, Illinois.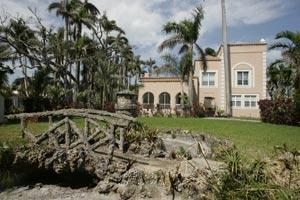 Al Capone's Palm Beach Mansion.