10 Largest Tractor Manufacturer of the World
A tractor is an engineering vehicle specifically designed to deliver a high tractive effort (or torque) at slow speeds, for the purposes of hauling a trailer or machinery used in agriculture or construction. Most commonly, the term is used to describe a farm vehicle that provides the power and traction to mechanize agricultural tasks, especially (and originally) tillage, but nowadays a great variety of tasks. Agricultural implements may be towed behind or mounted on the tractor, and the tractor may also provide a source of power if the implement is mechanised.
The word tractor was taken from Latin, being the agent noun of trahere "to pull". The first recorded use of the word meaning "an engine or vehicle for pulling wagons or ploughs" occurred in 1901, displacing the earlier term "traction engine" (1859).
1.
Claas
Claas is an agricultural machinery manufacturer founded in 1913, now based in Harsewinkel, Germany, in the state of North Rhine Westphalia. The product range includes combine harvesters, forage harvesters, balers, mowers, rakes, tedders and other harvesting machines. Claas is believed to be the top combine harvester manufacturer in the world, producing its 400,000th machine in 2003. Claas is the world leader in rubber tracked wheel technology for combine harvesters. Over 45% of all new combines are equipped with rubber tracks. Claas also has the largest selling self-propelled forage harvester in the world and manufactures a full line of tractors.
2. Fendt
Fendt is a German manufacturer of agricultural tractors and machines, manufacturing and marketing a full line of tractors, combine harvesters and balers. It is part of the AGCO Corporation. It was founded in 1937 by Xaver Fendt and purchased by the AGCO Corporation in 1997.
3. CAT
Caterpillar Inc., is an American corporation which designs, manufactures, markets and sells machinery and engines and sells financial products and insurance to customers via a worldwide dealer network. Caterpillar is the world's leading manufacturer of construction and mining equipment, diesel and natural gas engines, industrial gas turbines and diesel-electric locomotives.
Caterpillar Inc. traces its origins to the 1925 merger of the Holt Manufacturing Company and the C. L. Best Tractor Company, creating a new entity, the California based Caterpillar Tractor Company. In 1986, the company re-organized itself as a Delaware corporation under the current name, Caterpillar Inc. Caterpillar's headquarters are located in Peoria, Illinois, United States.
Caterpillar machinery is recognizable by its trademark "Caterpillar Yellow" livery and the "CAT" logo.
4. Case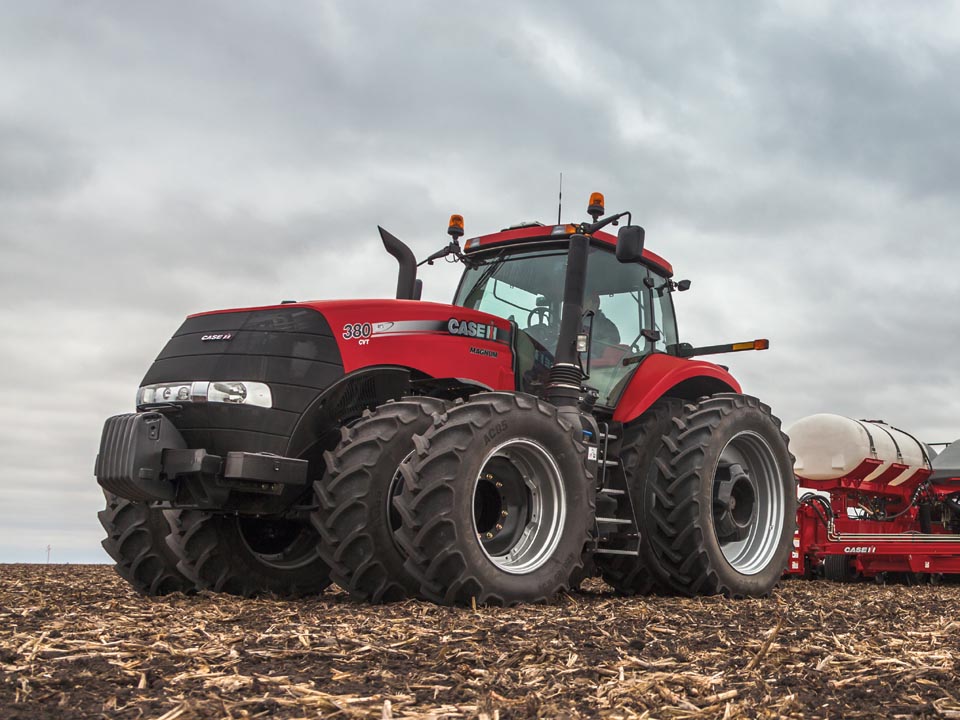 Case IH is a brand of agricultural equipment. Created in 1984 when Tenneco bought the agricultural division from International Harvester and merged it into its J.I. Case Company. Today Case IH is owned by CNH Global, which in turn is financially controlled by the Italian firm Fiat Industrial.
5. New Holland
New Holland is a global brand of agricultural machinery produced by CNH Global. New Holland agricultural products include tractors, combine harvesters, balers, forage harvesters, self-propelled sprayers, haying tools, seeding equipment, hobby tractors, utility vehicles and implements, as well as grape harvesters.
The original New Holland Machine Company was founded in 1895 in New Holland, Pennsylvania; it was acquired by Sperry Corporation in the 1970s, then by Ford Motor Company in 1986, and then by Fiat in 1991, becoming a full line producer. Since 1999, New Holland is a brand of CNH Global, which is majority-owned by Fiat Industrial.
New Holland equipment is manufactured all around the world; the current administrative headquarters are in Turin, Italy, with New Holland, Pennsylvania serving as the headquarters for North America and home of the largest hay tools production facility in the world. With 18 plants spread globally, as well as six joint ventures in the Americas, Asia and Middle East, the corporation is present in 170 countries worldwide.
In recent years, the firm has received several awards for its products, designs, and innovative features. Recently, New Holland presented the NH2, a hydrogen powered tractor farmers can refill generating energy from renewable sources.
6. John Deere
Deere & Company, commonly known by its brand name John Deere, is an American corporation based in Moline, Illinois, and one of the largest manufacturers of agricultural machinery in the world. Deere and Company agricultural products, sold under the John Deere name, include tractors, combine harvesters, cotton harvesters, balers, planters/seeders, sprayers, and UTVs. The company is also a manufacturer of construction equipment and forestry equipment, as well as a supplier of diesel engines and drivetrains (axles, transmissions, gearboxes) used in heavy equipment. Additionally, John Deere manufactures equipment used in lawn, grounds, and turf care, such as walk-behind lawn mowers, zero-turn lawn mowers, lawn tractors, and snowthrowers. To support the core businesses, John Deere also provides financial services and other related activities.
The company's slogan is "Nothing Runs Like a Deere" and has a picture of a leaping deer as a logo, a word play pun on "nothing runs like a deer". Bob Wright, a copywriter at the Gardner Agency in St. Louis, Missouri, coined the phrase "Nothing Runs Like a Deere" for a marketing campaign to sell snowmobiles. The company's products are also identifiable by its distinctive shade of green paint, usually augmented by yellow trim.
7. JCB
JCB (formally J C Bamford Excavators Limited) is a British Multinational corporation, with headquarters in Rocester, Staffordshire, engaged in the manufacture of equipment for construction, demolition and agriculture. It is the world's third-largest construction equipment manufacturer. It produces over 300 types of machines, including diggers (Backhoes), excavators, tractors and diesel engines. It has 18 factories across Asia, Europe, North America, and South America; its products are sold in over 150 countries.
The firm was founded in 1945 by Joseph Cyril Bamford, after whom it is named, and continues to be owned by the Bamford family. In the UK 'JCB' is often used colloquially as a generic description for mechanical diggers and excavators and now appears in the Oxford English Dictionary, although it is still held as a trademark.
8. Massey Ferguson
Massey Ferguson Limited is a major agricultural equipment manufacturer which was based in Brantford, Ontario, Canada before it was purchased by AGCO
Corporation
. The company was formed by a merger between Massey Harris and the Ferguson Company farm machinery manufacturer in 1953, creating the company Massey Harris Ferguson. However, in 1958 the name was shortened for the first time to coin the brand Massey Ferguson. Today the company exists as a brand name used by AGCO and remains a major seller around the world.
9. Valtra
Valtra is a Finnish based manufacturer of tractors owned by the AGCO Corporation.
Valtra traces its origin to Valmet, Bolinder, Munktell and Volvo. Bolinder-Munktell merged with Volvo in 1950 to form BM Volvo. In 1979, BM Volvo/Volvo BM and Valmet formed a joint venture for tractor manufacturing, and the tractors were labelled Volvo BM Valmet. The name was shortened to just Valmet, after Volvo sold their share of the tractor operation to Valmet. In 2001 Partek purchased Valmet, and the tractors were renamed Valtra-Valmet, and later that was shortened to just Valtra. In 2002, Partek was purchased by the KONE Corporation, and Valtra was put up for sale. AGCO purchased the tractor business in 2004.
Valtra has factories in Finland and Brazil, with significant presences both places. Valtra licensed Eicher of India to build tractors under the Eicher Valtra and Euro Power brands. The Harkovsky Tractor Works (HTZ) of Ukraine signed a letter of intent with Valtra in 1998 for cooperation of some sort. The Hattat Company in Turkey began assembling Valtras in 2003.
10. Mahindra Tractors
Mahindra Tractors, the farm equipment division of Mahindra & Mahindra, builds and sources tractors that are sold worldwide across six continents. Mahindra is also among the top three tractor manufacturers in the world. Mahindra has a huge consumer base in India, China and America and a growing base in Australia. The company builds more tractors in India than any other manufacturer, and has the capacity to build 150,000 tractors a year. In 1963, M&M formed a joint venture with International Harvester to manufacture tractors carrying the Mahindra nameplate for the Indian market. Armed with engineering, tooling and manufacturing know-how gained from this relationship, M&M developed its first tractor, the B-275. Mahindra Tractors with sales of nearly 85,000 units annually is one of the largest tractor companies in the world, and is number one in sales in India - the largest tractor market in the world. To expand into the growing tractor market in China, Mahindra acquired majority stake in Jiangling. To raise awareness about Mahindra in the US, Mahindra USA announced its new sponsorship in the NASCAR Nationwide Series with R3 Motorsports, which is participating with a #23 Mahindra Tractors Chevrolet. The car will be driven by Robert Richardson, Jr. Mahindra USA, Inc. announced a 17-race primary and 18-race associate sponsorship for the 2009 NASCAR Nationwide Series. With this sponsorship, Mahindra was the first Indian company to sponsor a car in NASCAR. In 2008, Mahindra was a sponsor of the McDonald Motorsports team which ran the #81 car in the NASCAR Nationwide Series.